Protect Your Comfort, Pocketbook, & Investment
Call (423) 509-8787 to schedule your heating and air system tune-up today.
Most people don't think about their system until they have an expensive problem. Dale's Comfort Club takes the worry and hassle out of keeping your system properly maintained.
---
Think About It
Have you ever seen how dirty a piece of outdoor machinery can get after months or years of use?
Have you ever seen a piece of equipment that worked better after it was cleaned or maintained?
Do you believe that not cleaning equipment makes it run worse and wear out faster?
If you answered "yes" to these questions . . .
… then you already know your heating and cooling system needs to be cleaned. And you realize that your system will work better if you have it cleaned.

That's where Dale's Comfort Club comes in.
Regular, scheduled cleanings, twice a year, for the systems you depend on for comfort in your home.
And you get to spread your payments out over the entire year – interest free.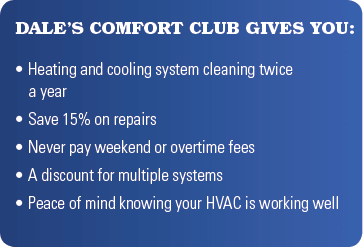 ---
Join Dale's Comfort Club Today!
Want to keep your system running better for longer?
Just fill out the form below, and a member of our team will contact you right away.